Small Works On Paper
| home |
Roll your mouse pointer over any thumbnail below to get a larger image on the right. These works are sized 7-7/8 x 11-1/8 (Mead acid-free Sketch Book paper) to 8.5 x 11 inches (Georgia Pacific acid-free 110 pounds card stock). One or two are on ordinary typing paper. Colors used include Plaid Enterprises Apple Barrel craft paint, Tulip Soft Fabric Paint, Pebeo Setacolor fabric paint, and red food dye (on the typing paper), applied by both bristle and air brushes. The artist is experimenting and does not intend to convey any particular artistic meaning. That is for the viewer to decide.
August 2009 Horizontal SWOP
August 2009 Vertical SWOP
One Blue Day in December
Painted with Liquitex Basic Blue, using a Thayer & Chandler (Badger) Omni 5000, with the Vega 2000 #3 tip and Proliner cap, and the Badger 100 large needle (if I remember correctly)
In the Color of Dried Blood
For airbrush newbies, using cheap dye, like food color, allows an easy and inexpensive way to practice technique. When food color dries one paper, it turns to a color something like dried blood. Each of these exercises use food color in an airbrush (one or more models of Badger or Thayer-Chandler), some with added ingredients, like magenta acrylic paint and/or violet fabric paint, to make the original paintings more permanent. They are then massaged in Adobe PhotoShop (tm) to add color. Click HERE to see what results.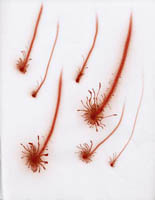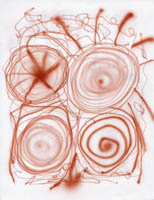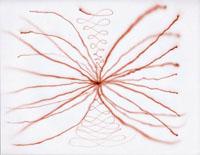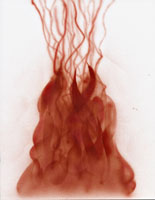 ---
© 2009, 2010 android originals LC, All Rights Reserved