These are the last 6 knobs of 20 from a Cali Bamboo flooring sample made of "woven strand" Eucalyptus, all with horizontal grain.  The finish on the next four, 223, 224, 225 & 226, is layers of generic superglue (SG) and either translucent acrylic or fabric paint. This intended to get a candy-like finish through which at least some of the iridescence of the wood showed.  The paints were mixed by finger on the turning knob (on a wood lathe) with some clear acrylic floating medium to make the paint layers even more translucent.  The knobs were polished before and after painting (sometime in between layers), and ultimately finished with Kiwi neutral shoe polish.
Almost all have circular "tooling" marks on their tops from swirling the layers on with a finger or folded scrap of paper towel.  One can only eliminate such marks by layering the SG on to thickness and then filing and sanding back down.  Even this turns out not to be so easy.  Paint in particular raises ridges, which causes leveling to cut back down through the SG into the paint.
These knobs turned out a little better than 221 & 222.  More practice needed.
If I remember correctly, Knob 223 (left) below used at least two different colors of blue (acrylic) and turquoise (fabric) paint.  As the different knob positions show, it still has some iridescence.  It has a yellow glass bead pointer.  Knob 225 (right) has little left because the base paint is a metallic gold.  Yellow acrylic paint, and possibly some yellow fabric paint give it color.
Knobs 223 & 224  (c) 2016 android originals LC
Knobs 225 & 226
I don't remember exactly what I put on Knob 225 (left).  Some combination of bright red acrylic, magenta acrylic, cardinal red Setacolor fabric and/or Fuchsia Setacolor fabric paint, with a blue glass bead pointer.  Obviously, some of the iridescence of the Eucalyptus shows through.  Knob 225 (right) definitely had some orange or buttercup fabric paint, as well as some acrylic colors.  It also shows some iridescence, with a blue glass bead pointer.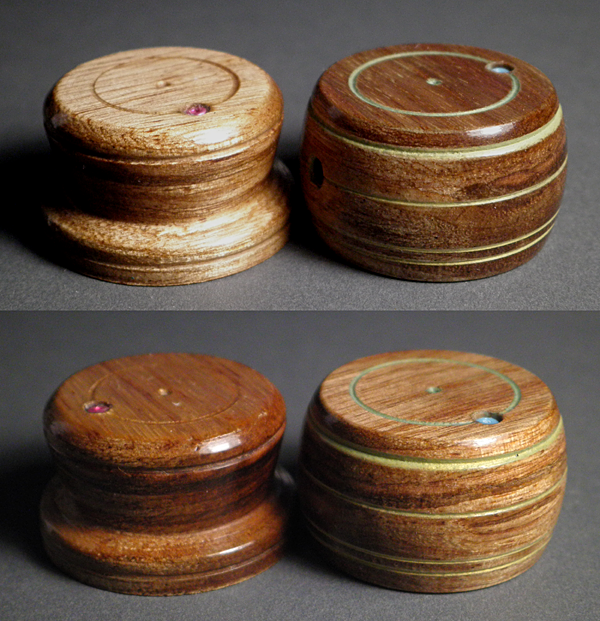 Knobs 227 & 228   (c) 2016 android originals LC
Knob 227 (right) was not painted, but 228 was.  Then the paint was removed from 228, except from the decorative and finger grooves.  The side grooves had yellow paint and the top groove blue.  Knob 227 has a red glass bead pointer, and 228, blue.  Notice that with all the glass beads on all these knobs, the bead sits in a decorative groove, looking a bit like a moon in an orbit.  FYI, it's a lot easier to drill the holes after making the grooves, to make them look like that.
Note that using fabric paint is not ideal; it tends to remain soft after drying.  One has to hope that the SG fixes it.  Acrylic paint is harder, and perhaps less likely to fail in the long run.  I simply had more colors of fabric paint on hand.  Note that for this application, it doesn't take much paint; just a few drops per knob.  Large 4 ounce tubes of acrylic can change to rubber before they all get used up.