Interview with up-and-coming Tulsa Jazz Guitarist Paul Humphrey – February 5, 2014
Mr. Paul Humphrey, then a music student at the University of Tulsa with a concentration in jazz music, graciously consented to give an interview while evaluating some of my guitars on February 5th, 2014.  This is the first video interview I have ever conducted, so all the mistakes are mine.  It was over an hour long, and was edited down to about 28 minutes, which is still too long for WordPress to upload.  So it has been broken down into six shorter segments.
---
Part 1: A Decorated and Modified Fender Squier Stratocaster ™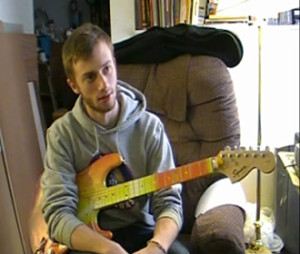 Download short video file: Widows Media AV, 320 x 240, 30 fps, 4.01 MB
This guitar has been decorated with my artwork, using vinyl van wrap material.  I rewired it with a 5-way superswitch to give all humbucking outputs from the three pickups, neck (N), middle (M) and bridge (B) – N & M in series with signals adding, M & B in series with signals adding, N & M in parallel with signals adding, M & B in parallel with signals adding, and N & B in series with signals subtracting (counterphase).
 Part 2: The Second Prototype Guitar – The Bloody Axe
Download Windows Media AV file, 320×240, 30 fps, 15.6 MB
 This is the second prototype, made of a neck from an Austin strat-type guitar, a red oak board for the body, with masonite top and back.  The first prototype, made of poplar and aluminum, warped and broke under string pressure.  The top is hand-cut and painted.  The back is curved to fit the musician's body.  Patent is pending on some of these improvements.  It has two strat-type single coil pickups in fixed position under the top, with a switch to chose between serial humbucking and parallel humbucking outputs.  A 12-position switch provides one unloaded positions, three clipping positions and 8 separate tone capacitors, connected to a volume pot and standard output jack.  The bridge is fixed, non-tremolo, top-loading on a riser from the body.  The top has a modest acoustic output, which can be tapped with a contact microphone, with different timbres at different positions on the top.  Not a bad little guitar, shown here before the controls were added.
Part 3: My First Electric Guitar – a Highly Modified Squier Bullet
Download Windows Media AV file, 320×240, 30 fps, 11.1 MB
This was my first electric guitar, a Fender Squier Bullet ™, bought around 2005, which I continued to modify over several years.  First, knocking off the Statocaster ™ horns, then giving it a new paint job, then routing out the front and back to add a plastic electronic breadboard block under the pickguard, and middle and neck pickups.  As you can see, it started with only a volume pot and a single humbucking bridge pickup.  I eventually added to the pickguard: a pot to mix neck and bridge humbucking pickups, a preamp pot, a distortion pot, and an LED indicator for the 9 volt battery used to power the electronic circuit.  The middle single-coil pickup proved to be unnecessary, and was taken out.  It turned out that routing sections out of the front and back gave it some acoustic output, which in part led to later prototypes constructed around standard bolt-on necks.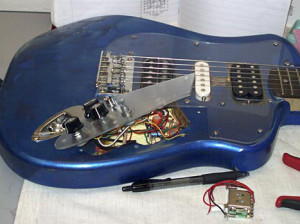 Part 4: A Bass Decorated in 2006
Windows Media AV file, 320×240, 30 fps, 6.8 MB
I decorated this Ibanez Cimar bass in 2006 with vinyl van wrap material digitally printed with my artwork, then covered with heavy overlaminate.  As with the previous orange guitar above in Part 1, I used scrap pieces to decorate the fret board.  I made the orange dots with a hole punch and scrap material from the orange guitar decal.  The artwork here comes from a B&W photo I took of an art student's sculpture armature (made of wire mesh and plaster) in the middle 1960s, when I was an engineering student taking photography classes for electives.  I changed it to color with the Gradient tool in PhotoShop.
The Cimar body is made of heavy masonite.  I tried to lighten it by drilling holes in the back, but eventually calculated that to take off even a pound, there wouldn't be much back left.  So I painted them blue.
Part 5: Paul Humphrey Plays the (Patent Applied For) 4th Prototype Electric-Acoustic Guitar
Windows Media AV file, 320×240, 30 fps, 31.2 MB
The U.S. Patent and Trademark Office received the Nonprovisional Patent Application for this guitar July 23, 2014.  It has a removable artwork top, which has moderate acoustic output, and can be easily shaped and decorated to the owner's desire.  It is literally "Artwork You Can Play" ™.  Any number of pickups can be placed in almost any physical orientation between the neck and bridge.  The usual guitar pickup, single-coil or humbucking, has only two degrees of freedom of adjustment, up or down beneath the strings at each end. This one allows that plus three more degrees of freedom, including position adjustments between the neck and bridge at each end and moving the whole pickup across the strings.
This prototype, the 4th in a series extending over several years, has four single-coil pickups, which have been modified to equalized the number of turns among them.  One five-way lever switch produces series-connected combinations of two coils each, all humbucking.  The second five-way switch produces parallel combinations of two coils each, all humbucking.  A series-parallel switch switches the output between them.
This output is connected to a 12-way rotary switch with 11 separate capacitors, in parallel with the pickups (large red knob on the left, or 6-string side).  The capacitors are chosen so that the peak frequency resonant with the pickup combination tends to decrease in steps equivalent to approximately four frets. Because the pickups sit beneath the top, this output connects to a battery powered pre-amplifier and distortion circuit.
The distortion circuit approximates tube distortion, a curve like an italic-f.  The distortion control increases the severity of this distortion, and at the highest setting produces a string-popping effect.  The Linear-Distorted switch picks between the linear and distorted outputs of this circuit, and passes the choice along to the output jack.  To the best of one's knowledge, no available pedal or amplifier produces the string-popping effect.  But Paul demonstrates that it can be used to good effect.
With a choice of 11 parallel tone capacitors or none, 10 humbucking pickup circuits from four single-coil pickups, and linear or distorted outputs, this prototype has 12x10x2 or 240 different settings for tone and timbre. Plus, it can be played acoustically, or with a contact microphone clamped to the edge of the artwork soundboard.  It can be used, as is, in genres from folk to blues to country to jazz to rock to metal.
"If you can't find something you like, you aren't trying hard enough."(tm)
Part 6: Paul Humphrey Comments on the Fourth Prototype
Windows Media AV file, 320×240, 30 fps, 15 MB
Let Paul's comments speak for themselves.